NEW! Eternally Yours
EXODUS: Torah's Enduring Relevance for a Life of Wisdom Rabbi Rueven Mann
"Full of life lessons that can be applied to one's personal situation."
"Very clear and easy to read, with deep ideas, penetrating the depths of wisdom in the Bible."
ETERNALLY YOURS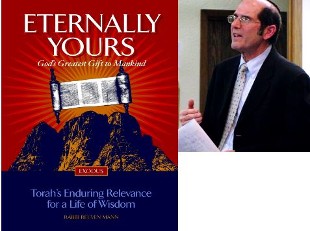 Get it on Amazon
Tap into the deep wisdom that is Exodus. The themes in this book are eternal and applicable to every time and situation. Throughout history, downtrodden peoples have identified with the oppressed Jews and composed inspiring hymns depicting Moses confronting Pharoh, commanding him to "Let my People go!"
In Eternally Yours, Rabbi Mann examines the underlying ideas contained in Exodus, and exposes what's hidden beneath the surface which can enlighten our lives. He analyzes the emotional forces at work in the great drama and yields new insights into human psychology to better enable us to understand the dynamics of social interactions. It also provides insight into the phenomenon of anti-Semitism and demonstrates that the pattern depicted in Exodus has recurred many times in history: this contains lessons for confronting the problem in our time.
Eternally Yours will enhance the reader's appreciation of the Bible's stories and confirm the Bible as a great source of enlightenment, enjoyment, and inspiration. While it's written from the perspective of an Orthodox Rabbi, people of all faiths and backgrounds who have an interest in the Bible will find it useful and gratifying. It contains no religious preaching, only a search for and analysis of, the eternal wisdom of the Book of Exodus.
ABOUT Rabbi Reuven Mann
For over 40 years, Rabbi Mann has served as a teacher of Torah and pulpit Rabbi, where he has gained a reputation for being a dynamic speaker, with a unique ability to communicate the ideas and concepts of Torah in an enlightening and inspiring manner. Rabbi Mann is also an acclaimed guest lecturer and scholar in residence at synagogues, college campuses, and Yeshivot throughout the United States and Israel.
Rabbi Mann founded Yeshiva Bnei Torah in Far Rockaway with Rabbi Yisroel Chait in 1971 where he taught and guided students for over 4 decades. He also founded the Masoret Institute for Advanced Jewish Studies for Women with Rabbi Daniel Rosenthal in 1993, where he still conducts classes via Skype and telephone from his home in Phoenix, Arizona.